Roto Retrofit Spare Parts
Roto Pumps is a world-renowned name for manufacturing and supplying top-quality retrofit spare parts for leading Progressive Cavity Pumps manufacturers. Roto's spare parts are easily interchangeable and are known for their impressive quality. Roto doesn't only provide world-class products to their customers, but also great services.
The retrofit spare parts that are supplied by Roto Pumps are rotors, stators, shafts, coupling rods and universal joint kits among others.
ERSATZTEILE ZUR NACHRÜSTUNG
Weltweit bewährte Nachrüstteile für alle führenden Hersteller von Exzenterschneckenpumpen
Hohe Qualität und Austauschbarkeit

Einfache Bedienung und absolute Sicherheit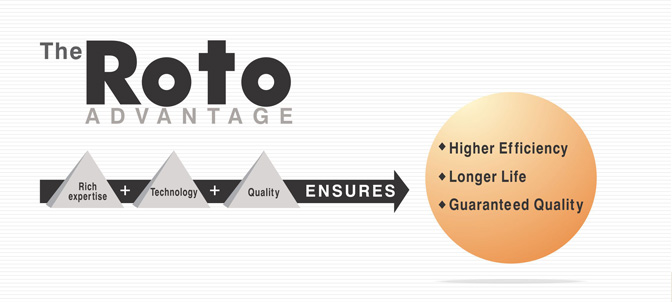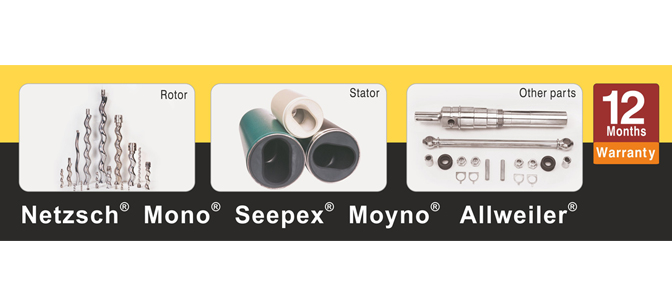 Hinweis-
Netzsch®, Monoflo®, Seepex®, Moyno®, Allweiler® & Wangen® sind eingetragene Warenzeichen der Netzsch Mohnopumpen GmbH, Mono Pumps Ltd., Seeberger GmbH + Co KG, Robbins & Myers, Inc. , Allweiler AG bzw. Wangen Pumpen GmbH. AFLAS® ist ein registriertes Produkt der Asahi Glass Co. Ltd., Japan. Roto Pumps ist kein autorisierter Händler von Teilen oder Dienstleistungen für Produkte der Netzsch Mohnopumpen GmbH, Monoflo, Seeberger GmbH, Robbins & Myer's Inc., Wangen Pumpen GmbH und Allweiler AG. Die Produkte von Roto Pumps Ltd. sind mit keinem dieser Unternehmen verbunden und werden weder von diesen Unternehmen unterstützt noch gesponsert.
Qualitätssysteme: Produktionseinheiten, die nach ISO 9001 : 2015 zertifiziert sind.